Category Archive:
News
What's going on at the Kerbal Space Agency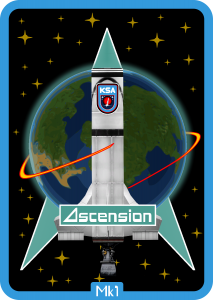 Nearly three months after the last launch, this mission took so long to set up partly because it would be the first to carry the Mk1 capsule into space, and first the capsule needed to complete testing and certification. You can review that whole process here if you like. It then had to undergo trials of the Launch Escape System so that it could be fully fitted for flight – but not the beat-up test capsule, we had to wait for a new capsule to arrive. There was also an engine explosion during testing and a Progeny Mk6 launch that was delayed while the Monolith temple cooling system was setup, not to mention the fins on this lifter needed to be angled for greater pitch control. So, a lot of work led up to the fourth Ascension Mk1 flight. Let's have a look at how it went.
The Flight
No delays occurred leading up to launch and the rocket lit its main engine at T-6s with 10% throttle for a check of the engine performance before throttling up to and holding a TWR of 1.2 (126kN) at T-3s. The engine clamp released at 16:12:00.08 local time for an on-schedule launch. Climbing 8.1m after another three seconds the rocket had cleared the tower and the AFCS kicked in guidance control to begin dropping the nose towards the horizon and heading downrange while throttling the engine up to full thrust, which near sea level is ~172kN. It was now time to see if this rocket could properly follow the pitch profile programmed into the guidance system.