Category Archive:
News
What's going on at the Kerbal Space Agency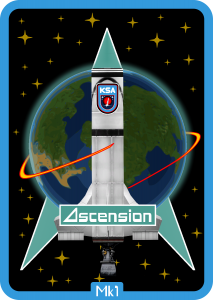 Now that we have the ability to launch actual kerbals into space, the unkerbed capsule no longer had to be a testbed for kerbed flight and was stripped of its control console and life support system. This made the interior much more spacious and capable of holding larger science equipment. Furthermore the hatch was modified so that it could be remotely opened and closed, which allowed for instruments inside the capsule to directly sample the space environment. We put this to good use in testing three of the Exremis probe instruments that had yet to see actual flight conditions: the magnetometer (mag), radio & plasma wave science (RPWS) and gamma-ray spectrometer (GRS). The RPWS and GRS were installed inside the capsule on a rotating column so each could be faced out the open door in turn over the course of the mission. The mag boom was originally supposed to go inside as well but miscommunication between the scientists & Ascension engineers meant it was built too large. Thankfully its slim profile while folded allowed it to be mounted externally on the fuel tank without too much fear of it being ripped off during ascent.
The Flight
On the day of the originally-scheduled launch, our recovery vessel MSV Aldeny radioed through the Ockr relay that conditions at the planned landing zone were too poor for safe operations. It was later forced to move off station entirely to find calmer waters and was not able to return until the end of the day. Thankfully conditions continued to remain good into the following day and although they slightly degraded here at KSC preparations were still undertaken to attempt a launch.