Category Archive:
News
What's going on at the Kerbal Space Agency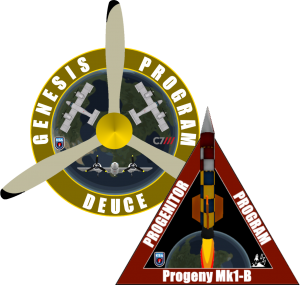 A little over a year and a half after the idea was first put forward by Captain Jebediah and after months of preparation, at the end of last month we finally were able to launch a rocket off an aircraft while in flight. It was a great accomplishment and the main goal was achieved: to prove that such an operation can be carried out without excessive danger to the crew of the aircraft (in this case Flight Officers Tedman and Aldeny) or the rocket itself in being able to complete its own mission. We'll review the process leading up to the launch before covering the launch flight itself.
Launch Preparation
Once it was confirmed that the rocket could be properly placed atop the aircraft, the first mission began with the simple goal of making sure the Deuce could takeoff and fly normally with the extra weight on the tail and its aerodynamic effects. Both concerns turned out to be minimal, at best – the piggyback was giving the aircraft no trouble whatsoever and it was able to reach an altitude of 7km ASL before climbing became too difficult to continue. That determined the release altitude, and Flight had no problems with going for a release of the rocket on this first test mission given how well-behaved the aircraft was. The release went exactly as planned – the decoupler placed forward of the rocket's center of mass kicked it back and upright from a flight level position before it fell behind the aircraft, nowhere near striking the tail, which was another concern.