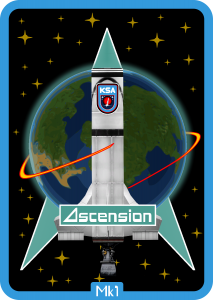 After a series of launch pad abort tests, our original space capsule was pretty beaten up and no longer able to fly into space. However it could still handle being launched through the atmosphere so we gave it the final task of performing an ascent abort test last week to fully qualify the Launch Escape System for kerbed flight. While it could be considered wasteful to essentially toss away a complete rocket in the process, we strive to achieve the utmost safety for our crew whatever the cost.
The Flight
Launch occurred on time without delays, mainly due to the fact that we didn't much care what the weather would be like since we knew the abort was going to happen regardless and any adverse conditions would only give us additional data. The rocket did not have its elevator fins adjusted so it could be launched sooner but it did not require full pitch control to head downrange during ascent.
A nominal climb through the lower atmosphere with the K2-X engine putting out full thrust saw the rocket reach the upper atmosphere (18km) at L+1m6s and 1 second later the LES was activated. The capsule made a clean separation from the rocket (which remained under power as planned, the engine did not cut off) with the LES motors burning out after 3 seconds of pushing it clear of the rocket's path and the tower detaching immediately afterwards.