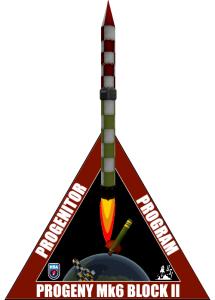 The Block II was brought back into service after what was thought to be its final flight back in 2019 in order to carry up some payloads for the Kerbal Sounding Project. While 4 Mk6 Block I rockets handled the launch of KSP instruments in 2019, this past year's program wanted to give the student builders the opportunity to send their designs higher than before aboard the Block II. Despite the buyout of USI enough surplus parts remained to construct the rocket and the new owner Luciole was able to produce more on demand if needed – which was good because it was needed when during wet dress rehearsal an equipment malfunction on the fuel truck caused an explosion that damaged the rocket.
The mission was pushed into this year while new solid rocket motors were manufactured to replace the ones that were damaged by shrapnel. Thankfully the final stage was high enough to escape harm as that would have been more costly and time-consuming to replace. Once repaired it was rolled out again, WDR this time went without a hitch and favorable weather on launch day posed no further delays.
The Flight
It was a beautiful night to again see this rocket soar up into the sky with a huge tail of flame shooting out from the 5 solid rocket motors that had ignited to push it off the pad with 135kN of thrust at 6Gs, keeping the nose high. The 4 radial boosters burned out after only 6s and fell away cleanly as the core booster continued to burn and accelerate the rocket through Mach 1 less than 10s into the flight. The sonic boom rippled across the grounds at KSC.