Category Archive:
News
What's going on at the Kerbal Space Agency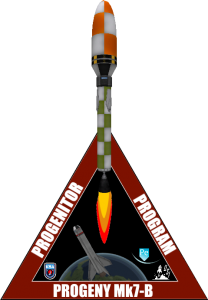 Originally announced back in late 2019, the Mk7-B was meant to fly earlier this year however the bankruptcy of Umbra Space Industries and the following litigation led to the suspension of Progeny launches that lasted several months on top of the self-imposed general launch suspension earlier in the year. Finally, nearly a year after the last Progeny Mk7-A flight the Mk7-B conducted its first mission.
Leading up to the launch, the rocket was carefully checked out after having sat around for months since finishing assembly earlier in the year. Rollout to the launch pad was initially delayed due to mechanical problems with the carry vehicle and once out on the pad despite a good wet dress rehearsal additional delays were required thanks to some launch system upgrades that were made during the downtime between this and the previous unkerbed launch.
Two days after the new launch date operations were finally allowed to proceed in preparing the rocket for lift off. Pre-launch protocols went smoothly and weather was cooperative throughout.
The Flight
At L-2 minutes the terminal count procedures began with the AFCS taking command of the rocket as the service tower swung away to leave the spacecraft on internal power and radio comms. Leading up to the final T-30s polls battery drain rates were monitored and signal checks undertaken. With all systems GO, the rocket proceeded with final launch procedures and the support legs keeping it stable against any sudden wind gusts were retracted 5s prior to T-0.