Category Archive:
News
What's going on at the Kerbal Space Agency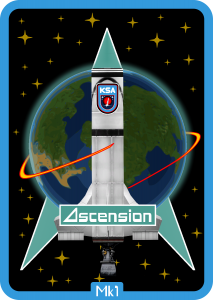 Ever since the attack on KSC that damaged the launch pad and destroyed our last Ascension Mk1 rocket we have been working hard towards regaining launch capability. It took 2 months to repair the ground service structures as well as the actual pad surface itself, but coming into the new year and new decade we are once again able to send up rockets from the launch pad. This mission will renew the bid for orbit that began back in 2018, and was then suspended at the start of last year when the rocket proved incapable of flying a trajectory that would allow it to enter a decaying orbit without running out of fuel. After testing new guidance fins on the Progeny Mk7-A, it is now time to scale them up to 1.25m rockets and see whether they can give the additional control authority needed to allow the rocket to pitch over faster. This mission will also see new 1.25m payload fairings based on the 0.625m ones that flew on the Progeny Mk7-A, which will be tested to see how they perform under the heat and pressure of ascent. The payload itself contains another RTG test article so it can be slammed into the ground after the flight and analyzed afterwards to determine whether it successfully remained intact and would have not spilled radioactive material.
The Flight
Due to tightening operational budget constraints, we can no longer afford to fail fast for iteration – in fact we can't really afford to fail at all. This has led to new policies and stricter launch commit criteria (weather, build process, flight quals, etc) going into effect this year. The result was some early delays for the launch due to weather being outside of acceptable constraints, but thankfully it did not remain uncooperative for long and the countdown was able to begin and run to conclusion with no further issues only a day later than planned.